Three stunning country houses Felanitx, Mallorca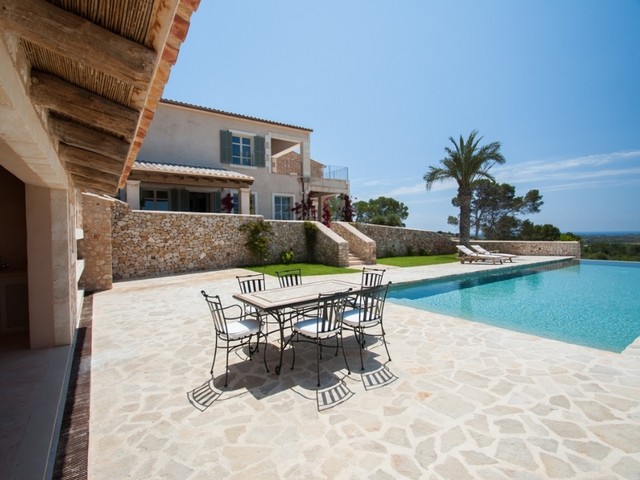 Living in a country house is becoming in recent years a trend followed by many people who want to enjoy a different way of life, calm, relaxed and in communion with the living environment. The characteristics of Mallorca, for its landscapes and its amazing beaches and close together capital, make it an ideal destination to purchase a house.
Southeast of the island, just 50 kilometers from Palma and in the region of Migjorn, the town of Felanitx is located bordering areas of Santanyi, Campos, Porreras, Villafranca and Manacor  and offers an excellent environment to find charming cottages, with character and kits of the highest quality.
In Felanitx, you can enjoy spectacular beaches along its 15 miles of coastline as Cala Marcal, Cala Mitjana, virgin cove of Sa Nau, Cala or is Babó. Portocolom is its natural harbor and one of the most important centers of maritime sport in Mallorca. One of its attractions is the great lighthouse, 31 meters high and charm. Also, you can enjoy playing golf on Vall d'Or Golf, La Reserva Rotana in Manacor or Son Antem Golf & Spa in Llucmajor.
In southeast Mallorca you will find houses completely renovated, century old field that kept the traditional features of the architecture of the island as the facades and stone floors, beamed rooms, patio and private well, shutters slats … to what is add modern interiors with luxury furnishings of the highest quality and integration of new technologies. For all these reasons we affirm that Felanitx can be considered an unbeatable location in which to invest for its environment, its unique character with a traditional one and constant progression upward.
Country houses for sale in Felanitx
An especially beautiful country house with stunning sea views near the golf course Vall D´Or, Porto Colom. This property consists of a main house and a small casita which can be converted into a separate guest house when needed. The approximately 250 m2 of living space are located in the hills overlooking the mountain monastery of San Salvador and Santueri.
Newly constructed luxury mansion in an exclusive location right next to the nature preserve meets even the highest requirements with first-class building materials,
A generous country estate with 500 m² of living space over 2 floors and unique panoramic views over the hilly country side of the south-east coast, the village of Santanyi and the Mediterranean sea till the Island of Cabrera.