Property for sale in Mallorca from our exclusive selection of luxury villas, quality apartments and townhouses for sale
Our exclusive collection of Mallorca properties for sale include apartments and villas located in the best coastal locations of the island. We invite you to browse our luxury listings and find your dream property in 2023 ! Browse from 349 luxury apartments to 112 frontline villas, our team of real estate experts will help you buy or sell your property in Mallorca.
Discover the best areas to buy property in Mallorca
The Island offers an amazing variety of landscapes, culture and beauty. Explore the island by region (North, South, East, West ) and find your perfect Mallorca property today!
Find today the right property for you
Welcome to our Mallorca Property For Sale collection! Unlike other real estate websites, the Mallorca property website that you find here is updated daily and you will find property for sale in premium locations in the largest of the Balearic Islands. With offices in the North and South of Mallorca , and associates in London, the real estate company specialises in the areas of Andratx, Pollensa, Alcudia, and Deià, but also properties throughout Mallorca, including demanded areas like Pollensa, Son Vida, Bendinat, Monport, Cala Llamp, Portixol, Llenaire, Alcudia.
Please find below a selection of properties including villas, houses and apartments with sea views and please contact us, with your requirements, and we will provide you with alternative options, some of the Mallorca property listings may be excluded from web advertisement.
In 2022 Mallorca property values are softening worldwide providing ideal conditions for a great property investment. Historically high end residential property has performed extremely well – buying in the troughs enhances the return. Mallorca's is one of Spain's premier source for luxury real estate and luxury villa rentals. We feature Mallorca apartments , and luxury villas for sale. Discover the charming North of Mallorca
Why Choose Us as your Agent ?
The team of estate agent at BalearicProperties® is committed to helping buyers enjoy an exceptional purchase experience. We work with clients of all countries, and increase the value of their assets in Mallorca together and thanks to our sister company Balearic Villas® specialized in luxury villa rentals.
Properties for sale in all areas of Mallorca
Mallorca has some of the most desirable properties in Spain. With its lovely year-round weather, gorgeous beaches and vibrant culture, properties in Majorca continue to capture the attention of buyers from all over Europe. If you are looking to purchase a house with pool or a villa with sea views we are here to guide you through the entire process of finding and purchasing the perfect property: 344 villas, fincas or apartments for sale from the leading estate agents in Mallorca with a stunning portfolio of exciting property offers in the following best areas on the island: Andratx, Pollensa, Palma, Deià, Alarò, Sóller and Santanyi.
Moving to Mallorca
Find out some important facts if you decide about moving to the Island. When considering buying property instead of renting – what is the market like now in terms of prices going up or staying the same? Read the Blog article here
Work in Mallorca: In November Spain has announced the launch of its so-called Nomad visa early next year which will allow non-European Union citizens (including Britons) to live in Spain for up to five years and also receive substantial tax breaks. The visa is aimed at so-called Nomad workers, those who work remotely for a company in another country.
About Balearic Properties Real Estate
Balearic Properties is one of the most established and reliable Mallorca estate agents covering the whole island. If you are looking to buy a property in Palma de Mallorca, or a property in Puerto Andratx, or luxury villas for sale in Mallorca our property team at Balearic Properties will assist you immediately in your search for the right property in Mallorca. Visit www.balearic-properties.com for further information and property listings.
Search for luxury homes with our estate agent network, your premier resource for Mallorca Fincas for sale. We have 286 properties for sale and 121 houses with private pools. Property listings include holiday villas, fincas, apartments, penthouses, frontline property, townhouses and many more lifestyle options. Each sale listing includes detailed descriptions, photos and a video of Mallorca's best areas like Pollensa, Puerto Pollensa, Palma or Andratx.
The Mallorca Property Market forecast for 2023
With interest rates roughly doubling from their lows in early 2022, it's a fair assumption that the cost of financing a home won't be coming down this year. Iris Grünewald, CEO of Balearic Properties (International Savills Associate) says that due to the low inventory, "property prices won't drop in 2023," she predicts. "we expect pricing to be relatively flat, increasing in top areas of Mallorca's coastline. The scenario is different unlike the financial crisis from 2008, when low demand combined with high supply, now the demand is very high and the offer is limited, so I don't see the market to be stressed in 2023.
Best locations to buy a property in Majorca
We are very proud to be able to boast one of the largest portfolios of properties in some of the most popular resorts like Pollenca, Puerto Pollenca, Andratx and Deià, Santanyi, Palma de Majorca, and Deià, which we have built up over the years by selecting the best range of property listings the areas have to offer. All of the leading Mallorca real estate agents on our list are an excellent choice for your next Mallorca property transaction. They are listed in no particular order, as they are all trusted local experts in the local real estate market of Mallorca.
Villas For Sale In Majorca
Mallorca has a large range of luxury villas for sale in coastal regions with fabulous sea views, Port Andratx , Puerto Pollensa, Bendinat or Palma de Majorca are some of the most demanded areas to buy a villa with a perfect view. Find your dream villa in Mallorca in 2023 from currently 399 luxury villas for sale in Mallorca, Spain. Our real estate experts can help you find the right home that match all the preferences for your dream villa in the Balearic Islands. Choose the filters above and narrow your search by location, price, number of bedrooms, bathrooms, and regions that match your requirements.
The average price price of a luxury villa in Mallorca is 680.000 Euro, and range in price between 617.000 Euros and 16.000.000 Euros.
On Mallorca-Property.co.uk you can find luxury villas in Mallorca sized between 1 and 16 bedrooms with an average of 200 ㎡ in size.
Read our latest Blog article about the Top Tips if you decide about moving to the Island
*Best investment advice: Don't wait to buy property in Mallorca, buy property then wait ! *
Contact Us
Contact us today. Our estate agents are waiting to talk with you to see what is important to you in your search for your new property in Majorca.
North Mallorca Offices
Carrer Alcudia 3
07460 Pollença
Phone: 9715 329 84
Via Pollentia 3 + 4
07460 , Pollença
Mallorca South Office
Benito Feijoo 13
07181 Portals Nous , Calvià
Phone: 658964297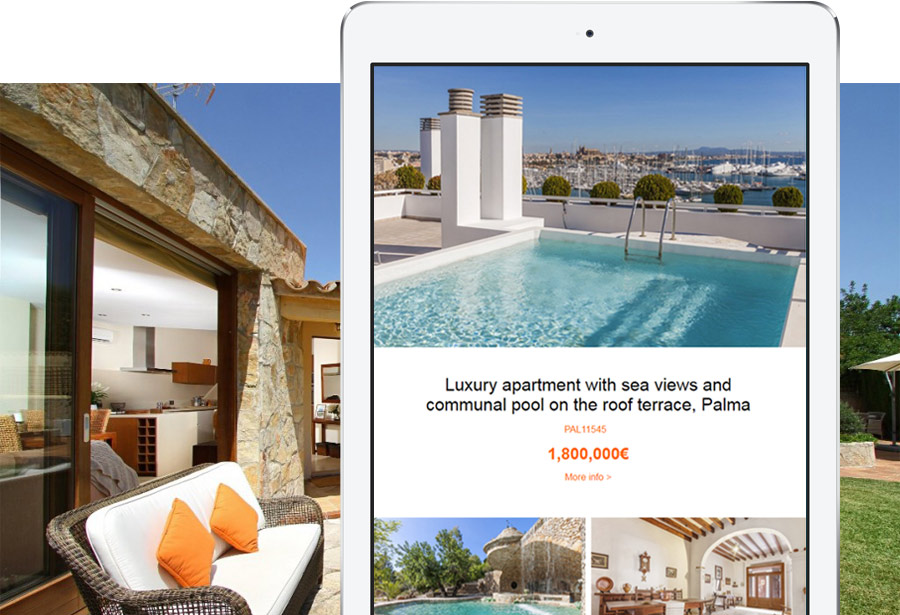 Property newsletter
Subscribe today for a weekly newsletter with all the latest properties, special features and important Mallorca real estate news.
Join mailing list