15 Best Estate Agents in Palma de Mallorca (Updated)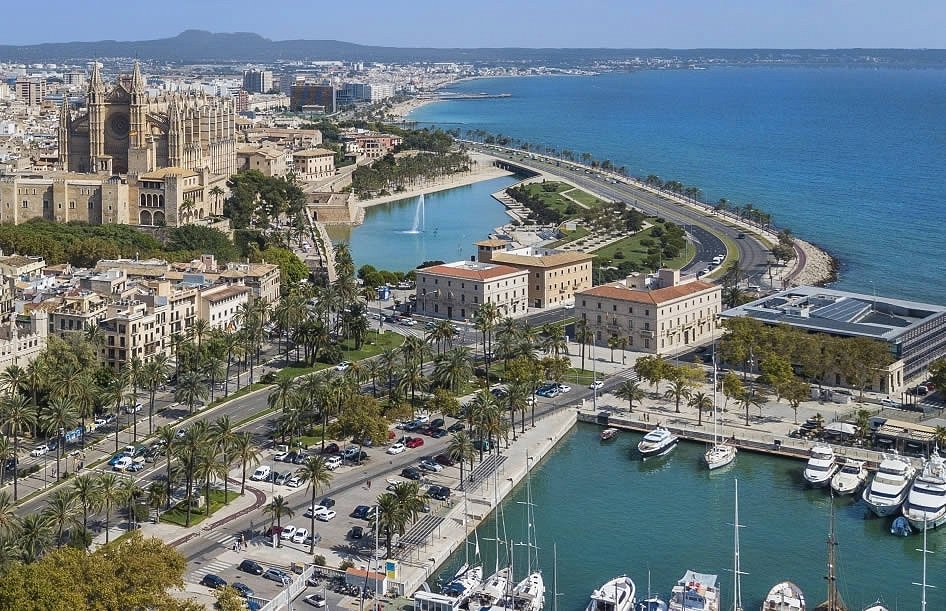 Making a move for something good in our life sometimes leaves us with a huge responsibility on our shoulders. Whether you decide to rent a property or to buy a new home you will need the services of a professional real estate agent in Mallorca who is familiar with your preferred area to live.
To make sure you have a stress-free experience and to help you make that final call, here is our list of 15 best real estate agents in Palma de Mallorca:
1. Balearic Properties Mallorca – The Savills Associates
Balearic Properties Real Estate are the market leaders since 25 years with a huge property portfolio of apartments, villas, country homes, and investment opportunities all over the island.
www.balearic-properties.com
Contact Details – +34 971 532221
Address – Via Pollentia 3
POLLENCA
2. Vogue Properties of Mallorca
Vogue Properties is a renowned leader in the luxury real estate market in Mallorca.
Vogue offers both sale or rental of the most exclusive penthouses, villas and buildings in the city and an unparalleled level of lifestyle in Palma de Mallorca.
Contact Details – +34 971 532984
Vogue Properties in Mallorca
www.vogueproperties.com
07001 PALMA DE MALLORCA
3. John Taylor Real Estate Agency Palma De Mallorca
Situated within the heart of the Golden Mile of the capital Palma de Mallorca, John Taylor is a renowned leader in the luxury real estate market since 1864.
They offer their clients with a professional, personalized and tailored services according to their requirements regarding the purchase, sale or rental of the most exclusive properties and an unparalleled level of lifestyle in the Mediterranean, Palma de Mallorca.
Contact Details – +34 971 598 800
Address – JT Real Estate Palma SL
Carrer Constitució 8
07001 PALMA DE MALLORCA
Islas Baleares, Spain
4. Nova Mallorca Real Estate Experts
Established in 1969, Nova Mallorca is one of the most experienced real estate agency with more than 50 years of experience in Mallorca. They are well known for their impeccable professional history, complete transparency and honesty.
Nova Mallorca is much more than a real estate agency, as they advise you on any matter surrounding the real estate sector such as free property valuation, recommendations and advice for a quick sale with insertion of modern, efficient and active selling market platforms.
Contact Details – +34 605 222 222
Address – Passeig de Mallorca 14 A Palma Mallorca Balearic Island 07012 Spain
Website – https://www.novamallorca.com/
5. Minkner & Partner – Mallorca
Minkner & Partner are renowned as real estate brokers and a Spanish company with German owners. They have sold almost 3,000 houses and apartments in the last 24 years on Mallorca and has rented out countless long-term properties.
M&P offer brokers that meet the internationally required minimum standards of training and market knowledge. They provide services like extensive real estate portfolio and after-sales services without an additional fee.
Contact Details – +34 971 425 016
Address – Carrer Del Conquistador, 4
E – 07001 Palma
Website – https://www.minkner.org/mallorca/
6. Engel & Völkers Mallorca
A world leader in luxury real estate, Engel & Völkers exercises its trademark high standard of service right across the island. There are actually various Engel & Völkers offices spread throughout Mallorca, situated in the heart of the most desirable property spots on the island.
Property Address : Carrer Constitució, 7, 07001 Palma, Illes Balears
Website – www.engelvoelkers.com/mallorca
7. First Mallorca Estate Agents
With several offices across the island, First Mallorca is one of Mallorca´s leading real estate companies with over 20 years of experience and an unbeatable reputation. First Mallorca offer top quality services with over 1000 properties for sale, rent or development for anyone looking to invest on Mallorca.
Contact Details – +34 971 007 007
Passeig de Mallorca, 14, 07012 Palma, Illes Balears
Website – www.firstmallorca.com
8. Home Concept Mallorca
Located in Palma between Plaza de España and La Rambla, Home Concept Mallorca is a real-estate agent offering a joyful selection of island properties. This thoroughly modern firm is easily recognised for its clean, fresh branding and the high-quality presentation of all properties on its books.
Home Concept Mallorca takes a dynamic, proactive approach to marketing properties on behalf of sellers, achieving an impressive sales record as a result.
Contact Details – +34 971 919 555
Address – Passatge Particular
Antoni Torrandell 2 Entresuelo Palma
Website – www.homeconceptmallorca.com
9. Gutbier Immobilien S.L.
Gutbier Immobilien S.L are committed to finding their clients their dream home. This family-run business is now in its fourth generation that have been offering trust-worthy, reliable real estate since 1946. Within their office in Bendinat 5 languages are spoken enabling a friendly international environment for their clients.
Contact Details – +34 971 703 438
Address – C/Ginesta 4, 1-1C. Bendinat
Website – www.gutbier-immo.com
10. Mallorca Gold
An active member of the Knight Frank network since 2009 and the representative of this prestigious real-estate group in South West Mallorca, Mallorca Gold is a boutique agency focusing its attention on the high end of the property market in Palma. Headed by Daniel Waschke, the team of 12 works with exclusive properties in several of the most sought-after island locations.
Contact Details – +34 971 790 701
Address – Camí de Son Rapinya, 40, Palma
Website – www.mallorcagold.com
9. MallorcaSite.com
MallorcaSite.com, located in Santa Ponsa, is a professional owner-run agencies whose primary concern is finding the right property for your needs. The agency covers all regions of Mallorca, and combines the use of technology with a study of each client's requirements and their local knowledge to provide you with the best property options within the luxury residential market, in which they are experts.
Contact Details – +34 971 712 165
Address – C/ Illes Balears 14, 2 Poligono Son Bugadelles 07180 Santa Ponsa (Calvià)
Website – www.mallorcasite.com
11. Balearic Properties
With 20 years of experience in the north of the island, Balearic Properties have earned their excellent reputation by listening to their clients' needs and ensuring that they find them the perfect Mallorca property. From villas to townhouses in the city centre of Palma, the agency provides all perfect for homes, rentals and investment opportunities.
Contact Details – +34 971 532 221
Address – Via Pollentia 3,
Pollensa
Website – www.balearic-properties.com
11. MD Real Estate Projects
MD Real Estate Projects is a real estate company that offers a one-stop-shop for everything from property sales and building supervision, to property management and financing. Their broad portfolio of properties for sale ranges from renovated luxury fincas, through townhouses and city-centre apartments, mostly focused around the southeast of Mallorca.
Contact Details – +34 971 160 429 Address – Calle Ses Sitjes 1, Campos
Website – https://www.md-immoprojekte.com/index.php
12. Lucie Hauri Real Estate
Lucie Hauri has been bringing hundreds of satisfied buyers and sellers together for over 30 years and is therefore the one of the top addresses for property buying on Mallorca. The German-Swiss founder of the company and her team specialise in the market in the southeast of Mallorca, especially the region around Santanyí, one of the most attractive and romantic corners of the island.
Contact Details – +34 971 164 373 Address – C/Bisbe Verger 26, Santanyí
Website – www.lucie-hauri.com
13. Morgan & Morgan – Property Finders, Mallorca
Morgan & Morgan have challenged the traditional view of the estate agency by doing all the hard work for you. From a network of handpicked estate agents and their wealth of contacts, they have access to a wide range of properties across the island of Mallorca. The company take the time to understand about you and your family's needs so they can help you find your dream home.
Contact Details – (0044) 7577 408 598
Address – Carrer De La Reina Maria Cristina 9, Pollenca, 07460
Website – https://morgan-morgan.co.uk/
14. Kuhn & Partner Real Estate, Palma de Mallorca
As one of the leading estate agent companies for luxury residential properties in the Balearics, they are aimed at an exclusive clientele. Their main aim is assisting private customers in purchasing and selling their properties. As an estate agent and property developer they supervise all transactions and assist in all further issues.
Contact Details – +34 971 89 73 01 Address – Carrer de Manresa, 0, 07015 Palma, Illes Balears
Website – https://www.kuehn-partner.com/
15. Eastlake Mallorca Properties, Palma de Mallorca
Eastlake Mallorca have a selection of some of the best commercial and residential properties on the island and aim to make the process of buying as painless as possible. They not only try to give you as much help as they possibly can when it comes to looking for and buying a property, but they also offer numerous other services ranging from carrying out of surveys to organising the reform of your new property.
Contact Details – +34 600 44 44 40
Address – C/ Tous y Maroto,
07001 Palma, Spain
Website – http://www.eastlakemallorca.com/
Related Articles
Best estate Agents in Puerto Pollensa
15 of the very best Estate Agents in Mallorca
2021 Estate agents in Mallorca. List your agency