Things to do in Palma de Mallorca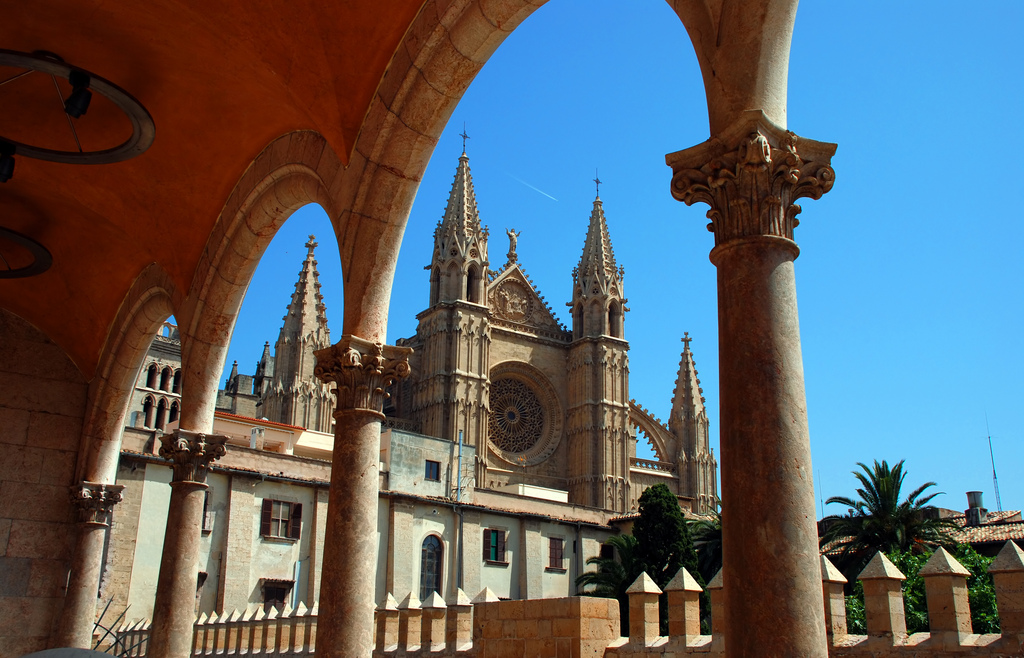 What's a girl to do when she gets tired of lazing by the pool of her luxury rented villa? Visit Palma of course! No visit to Mallorca would be complete without a visit to the capital city. Located in the South West of the island, Palma is a sprawling metropolis that really doesn't ever sleep. Whether it's a spot of retail therapy – a need for some culture – sight seeing – night clubbing or just chilling out in one of the many street cafes, Palma de Mallorca has everything to offer it´s discerning visitor.
The most striking landmark of Palma that you can't fail to notice is the beautiful gothic cathedral La Seu majestically looking out to sea. The cathedral took over 500 years to build, and it´s most recent additions were made by famous architect Antonio Gaudi, who spent a few years in Mallorca early in the 20th Century. It is said the Cathedral is best viewed from the sea as you come into Palma.
The Paseo Maritimo of Palma
The Paseo Maritimo, the main highway fronting Palma to the sea is a bustling highway, littered with 5* hotels, restaurants, bars and famous nightclubs in equal measure. Strictly for the nocturnal, Pacha or Mallorca's first nightclub Titos. Both clubs open at midnight and close at 0600.
Old Town Palma and La Lonja Quarter
Running parallel with the Maritimo, one can see the remains of the old City Walls, which were built around the City during the occupation of the Moors. Hard Rock Café, the new kid on Palma's block enjoys pride of place looking out over the harbour (www.hardrock.com Tel: 971 281872). This juxtaposition of opposites is a clear hint of what Palma is all about. Shabby chic Phoenician architecture embraces the most minimalistic modernism.
Moored up in the Port of Palma are the mega yachts and sailing craft that Palma is famous for. Along side the port, there are some nice tapas bars; it is not difficult to find a great little spot to stop for a drink and a bite to eat. One of our favourites is Darsena Tel: 971 180504 Pull up a chair on the waters' edge alongside the boats and dream about which yacht you'll buy when your numbers come up!
Head over to Placa Joan Carles I, pop into C&A (yes we really do still have C&A) and relax over a café con leche with locals and tourists in historic Bar Bosch (Tel: 971 712228 or Gran Café Cappuccino) it's a great place to people watch.
Then, take a stroll down the Borne; one of the most exclusive streets in Palma. Soak up the atmosphere of the wide boulevard – an elegant central aisle to some of the most exclusive shops to be found in Palma. You might be lucky enough to catch street entertainers dance the Argentine Tango when you are there.
But remember to look up at the buildings as you pass along; there are some interesting trompe l'oeil to be found on the taller buildings.
Alongside Zara and H&M, are designer names such as Louis Vuitton and Mulberry. As you pass, check out LV's window for the most interesting window displays in the City.
When you arrive at the fountain roundabout at the southern end of the Borne, turn right into C/Sant Feliu to find a great shop Rialto Living. Established in an old palacio, Rialto living is an Aladdin's cave of sumptuous goodies. They also have a nice café.
This area borders on La Lonja. Once the financial district of Palma, La Lonja is now home to some very chic bars and restaurants. If you are there at night, we recommend you visit cocktail bar Abaco in Calle San Juan 1. This bar is a feast for the senses. Head down there on a Friday night at around 11pm – there is a real treat in store when the weekly show is performed.
Cathedral, City Centre
On the Cathedral side of the fountain in the Borne, you will find the cool shady Islamic Hort D'el Rei Gardens. If you head back into the centre of town you will find yourself in the old town of Palma where the shops are small, interesting and more individual.
In the centre of the City, Placa Major, a large pedestrianized square was built on the site of the former HQ of the Inquisition. Some days you may find an old fashioned street market within the symmetrical portico, and most days artists and street entertainers abound. Stop in one of the street cafes and watch them do their stuff, often in 35 degrees. It takes some doing…
The City is a little old fashioned in many ways. The smaller shops still close at 13.30 until 16.00 daily, although the larger stores like Corte Ingles remain open from 10.00 until 20.00 6 days a week. There is no Sunday opening, except for the larger shops down the Borne and along Jaime III. The fact that the city still observes the siesta and there is no Sunday opening has been a real bone of contention for many years.
Palma Guides
Guided tours of Palma are available daily and will tailor the itinerary to suit you. Or, for a fun bus ride, why not try the hop on – hop off City Sightseeing Bus. This tour operates all day and most of the evening. It takes in the entire City, including Castell Bellver.
Property for Sale
There are numerous real estate agents offering properties to buy in Palma de Mallorca, one of the best sources to find apartments and houses in Palma is www.balearic-properties.com
Property for Rent in Palma de Mallorca
With over 15 years of experience in the Mallorcan holiday villa industry, Balearic-Villas.com specializes in holiday rentals of luxury villas, family villas and apartments in Palma de Mallorca
This  is really just the tip of the iceberg. There is so much to see and do in Palma… make sure you don't miss out!