Hotel Castell Son Claret, a luxury historic estate.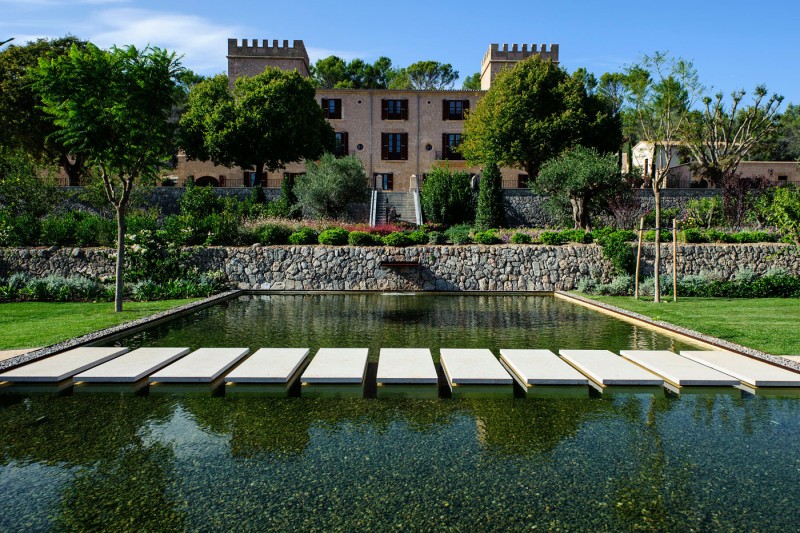 Mallorca is configured to receive a new gem in the island, the Castell Son Claret. This historic estate of 325 acres has been lovingly restored and transformed into an extraordinary sanctuary, located in the midst of stunning nature Mallorca promising guests a better experience defined by luxury, quality, relaxation and recovery.
Protected by the Tramuntana Mountains, designated in 2011 as a UNESCO World Heritage discerning travelers will find an exceptional retreat of elegance and tranquility. Located near Puerto Portals in Calvia, this luxury 5-star property will be a rare treat and operate under the motto: "The luxury of silence".
The Castell Son Claret has a fascinating effect on visiting Fernando Pérez Arellano, famous culinary virtuoso Madrid, and creator of the Michelin-starred restaurant, Shaker, has decided to move his team behind the castle walls. "Son Claret Castell is a paradise," says Fernando about his decision to move. "I found my personal paradise here, a place to enjoy and delight our customers."
The owners Klaus-Michael Kühne and his wife Christine have put a great emphasis on lovingly restored historic 18th century castle and the surrounding blocks, improving where necessary to provide the most elegant and modern fundamentals of comfort. The extensions have been developed with great care, preserving the privacy of the original splendor of the estate and the vast gardens.
The holistic approach of the philosophy of retreat in the heart of the Sierra de Tramuntana has created a spa "Bellesa Claret", an extension of the relaxation experience. Located away from the guests in tents outdoors, the Spa "Pocs núvols" offers eclectic treatment menu of activities based on a philosophy of the four pillars of "Inner and Outer Glow", which not only focuses on the beauty, but also works to balance and restore the mental and physical wellbeing of guests.
Claret Castell Son is a member of The Leading Hotels of the World and offers 38 truly unique rooms and suites. At first glance the doors to the rooms and suites seem heavy, massive and unshiftable. Yet they open effortlessly into a sophisticated mix of cosiness, functionality, lightness and generosity
Castell Son Claret
Carretera Es Capdellá-Galilea, km 1.7
07196 Es Capdellá, Calvía
Mallorca, Islas Baleares
Spain
Phone +34-971-138 620
Fax +34-971-128 621