Buy to invest, an option of success in Mallorca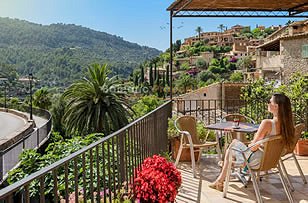 The purchase of a property in Mallorca for its later rent is an option that currently offers a return of 5.4%, while in 2015 it was 5.2% and 5% in 2014. These data confirm that acquire a property to rent is more profitable year after year.
Recent data published by the Bank of Spain confirm that the residential sector achieves on average the yield of properties in two ways: rent (4.4%) and its revaluation (3.9%).
Mallorca (5.4%) is one of the most profitable communities to buy a house and rent it. The activity of medium and large investors, who buy houses in Spain in search of the high profitability offered by the rental, is one of the main engines of the revival of the Spanish real estate market. The improvement of the labour market and the opening of the credit line under very favourable conditions (such as minimum interest rates) continue to boost real estate activity. The numbers indicate that second residences are the type of property that more and better are sold at the moment. Not even the feared Brexit seems to have had a special impact on the number of real estate transactions.
This consideration of housing as a major investment asset is given by the rising selling prices and a growing rental market. According to real estate experts and economists, this is a sign of a standardized and balanced real estate market, the real estate investor doesn´t buy a property to obtain profitability in the short term with its sale, its objective is to lease it and receive a periodic rent.
Economic analysts affirm that direct investment in real estate assets located in central and premium locations of major cities and resorts with higher demand continues being an appropriate alternative.
We can introduce you to the best new developments in 2020 , a stunning selection of apartments in Palma, Santa Ponsa or Puerto Pollensa with good returns.
Property investments below the 600k target and you will be amazed at the broad range currently on offer. We can offer you apartments in super complexes with pool, even situated in seafront buildings offering fabulous ocean views, attractive villas in all areas of the island, or a cute, traditional country house in tranquil surroundings.
We have a stunning portfolio of exciting property offers and a service of the highest quality. People looking for a Mallorca property can take advantage of the current prices and best opportunities.
Best Estate Agents in Majorca
https://www.mallorca-property.co.uk/blog/estate-agents-in-puerto-pollensa