Best beaches in Mallorca - The beach guide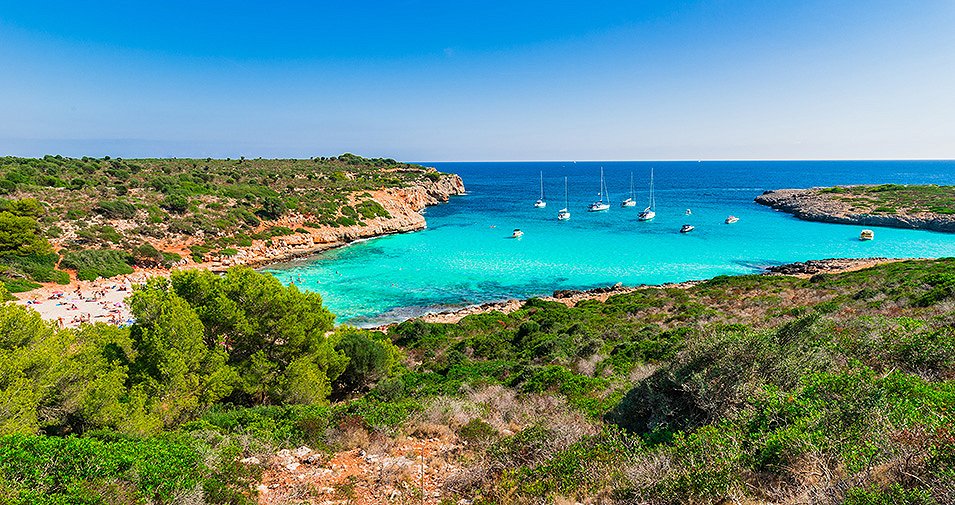 Mallorca's best beaches in 2018
There are over 260 beautiful beaches in Mallorca. These are some our favourites!
Formentor Beach (northeast coast of Mallorca)
Travel by boat or drive from Port de Pollença to Formentor, home of the famous hotel where Churchill, Agatha Christie, and many other notables have stayed. Or follow the road signs, passing spectacular scenery. The long narrow sandy beach is sheltered, fringed with trees and offers sumptuous bay views. There's a beach bar near the boat dock. Cala Formentor is one of the most beautiful spots on the island and, as a result, is very popular. It's situated in the north west of Mallorca. With a stunning backdrop of pine forest and views to the mountains, it's easy to understand the attraction. The turquoise blue sea is crystal clear and the beach is made from very fine white sand. It does stretch for around a kilometre so you may be able to find a spot to spread out. Trees overhang the beach so there is plenty of shade in the hot summer months.
Es Trenc (south Mallorca)
Probably Mallorca's pretiest each, boasting three kilometres of white sands and dunes. The tranquil shallow waters seduce even the most dedicated of sunbathers away from their spot on the sand. It can be crowded, but is always relaxing.
Cala Blava (south)
Facing the Bay of Palma stand the cliffs of Cala Blava. There are several (often steep) access routes down to the many coves and rocks, which are never too crowded, meaning you can sunbathe in relative privacy. The waters are part of the protected natural marine reserve. Take your snorkel and flippers for a fish's eye view of the typically Mediterranean underwater habitat.
Portals Vells (southwest)
The three small coves of Portals Vells offer a paradise of calm, clear sea. With a backdrop of shady pinewoods, these beaches are perfect for a day of relaxation. There are also caves to explore on either side.
Cala Varques (east)
Cala Varques, south of Porto Cristo, is one of Mallorca's most captivating virgin coves. There's no signpost: it's an insider secret. Access is via a rough track, where you park, before walking over private land down to the white sandy beach. This is nature in the raw, so expect a few nudists and the occasional cow (from the adjoining farmland) . . . and take your own sustenance.
Cala Mondragó (southeast)
In the heart of Cala Mondragó Natural Park you can enjoy nature in its purest state by strolling along the park's footpaths – or head straight for the glorious sands. Cala Mondragó itself has shop, toilet and restaurant facilities, but follow the excellent path around the headland and you'll find Cala s'Amarador – larger, less crowded and with a wooded backdrop. A beach hut sells drinks and snacks.