10 Best beaches in Mallorca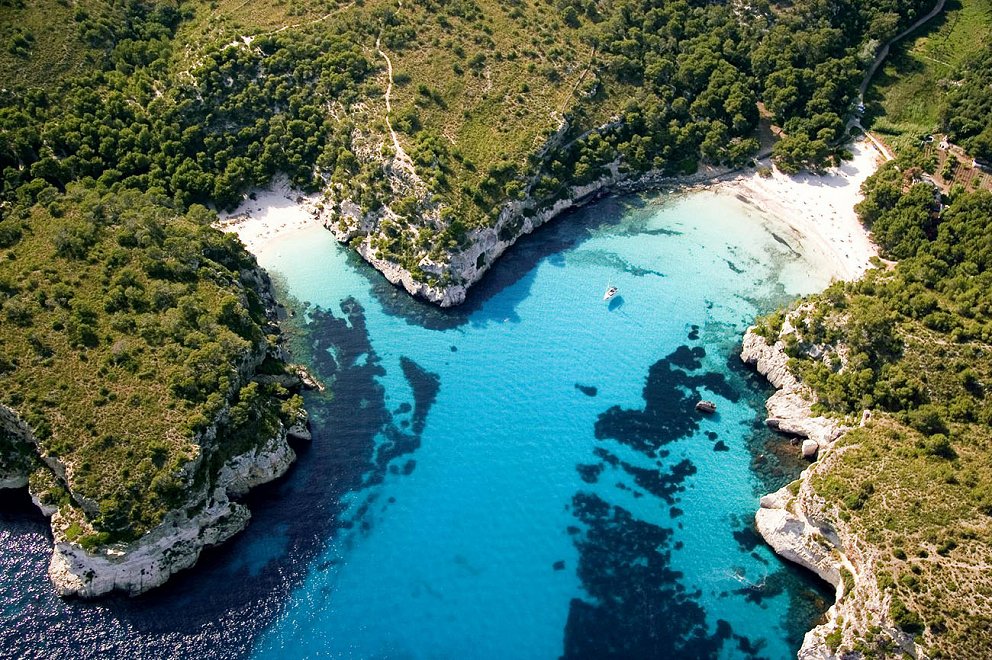 The 10 beaches around Mallorca that are inspiring all the wanderlust right at the moment
There's nothing better than spending a sunny day on a beautiful beach with your family and friends, and no better place than the Spanish island destination of Mallorca. Not only does Mallorca features some of the best islands and beaches in Mediterranean Sea, it sometimes rivals in beauty with its more renowned and Wild neighbour Ibiza. With its numerous beaches and natural beauty along with its close proximity to most of Mainland Europe, makes it one of the most desirable place for an exotic vacation. No matter what type of beach you are looking for, may it be wide, sweeping beaches, fronted by hotels, shops and cafés, or a secluded and hidden beach nestled in canyons or coves, Mallorca has got it all. Mallorca's beautiful coastline boasts of more than 200 beaches, though the bigger ones have been claimed by resorts, many are still accessible to the general public. In case you are planning your summer holiday for Mallorca, and wondering about the best beaches on the island, then look no further as we have compiled a list of Best beaches on the island of Mallorca. So grab your swimsuits and go through our list.
10- Portals Nous Beach
Located next to the reputable leisure complex in Mallorca, Puerto Portals Marina, this beach has the perfect swimming conditions in the most immaculate turquoise seas. The beach features some of the best water sport activities ranging from jet skiing, to paddleboarding, and has a great environment for a family to spend their day. The Portals Nous Beach has ton of restaurants and a number of cracking beach bars all situated on the other side of the marina. Located close to the port, the Nous features a long sandy sweeping beach. There are lounges and sunshades available to rent along with showers.
9-Cala Millor
This particular beach is a long sandy stretch between the Cala Millor and Cala Bona on east coast of Mallorca. The beach is 1 and half kilometres long and is perfect for cycling, walking, refreshing in one of the bars and café's and browsing gift shops. The beach is quite safe and shallow enough for children to play in. Hence a great picnic point for families. The beach is characterised by fine, white sand, perfect for sunbathing and beach games.
8- Cala Mondragó
Located in the south-east of Mallorca, Cala Mondrago is one of the most beautiful beaches on the east coast. Featuring some of the most finest white sand, with long stretches of pine wood along the beach almost reaches till the turquoise coloured sea. The beach is perfect for families with small children. Though the beach is quite secluded from the resorts and noise, tourists still flock here to enjoy the immaculate natural environment, with the rocky inlets, soft sandy beach and perfect turquoise colour water.
7-Es Trenc
Covering an area of 3.5 km in length and 60 meters wide, Es Trenc is considered the largest beach on the Mallorca island which is still unspoilt. The beach features beautiful white sand and water in a turquoise Caribbean like colour. The beach is frequented and loved by both tourists and locals and there are two bars located which offer fresh refreshments to the visitors. The downside is that the beach does no have any sanitary facilities or anything like a fresh water shower. The beach can get extremely crowded during the high season especially on the weekends and free parking becomes limited.
6-Sa Coma
Considered among the most pleasant and beautiful beaches on the island, Sa Coma beach is located in a small friendly resort of the same name. The beach is also designated as one of the Blue Flag beaches of Mallorca island, and features fine golden sand with clear blue water. It also features a number of facilities just a quick walk away. The beach is situated perfectly as other beaches are also easily accessible from here.
5-Cala Varques
If you want to spend some quite time with your family from others, then this secluded beach located on the east coast is the best bet for you. Cala Varques also referred to as Calas de Mallorca, is a bit difficult to locate, which is why its more desirable. Getting to this beach requires a 15 minute walk through pines and all the way down to a cove. What awaits you afterwards will be tranquillity and clear turquoise water. The beach is a common destination for naturists so be prepared for that.
4-Cala Mesquida
One of the most popular beaches on our list, Cala Mesquida is especially famous for its water sports. Tourist visit the beach for snorkelling specifically as the sea is shallow and is quite far from the shore. The beach features a beautiful resort Viva Cala Mesquida on one of its sides which has a ton of dining options plus a casual café on sand. On the other side of the beach, there's a protected natural reserve which features sand dunes and pine trees, this give Cala Mesquida a remote, raw and secluded vibe. Furthermore, there a ton of facilities such as toilets, sun loungers and umbrellas for rent.
3-S'Amarador
Located inside the Mondrago Natural Park, S'Amarador is one of the most raw and unspoiled beaches on our list. Though the beach does not have any sort of development which means you won't find any facilities nearby, however that does mean the beach itself is pristine and a haven for all naturists. The upside is that you can venture off the beach and explore the surrounding park area, forests and sand dunes which could prove an ultimate leisure activity for your picnic.
2-Es Calo del Moro
One of the most secluded and raw beaches on the list, Es Calo del Moro is located on the southern coast of Mallorca island. The special thing about this beach is that it's under a private foundation which has vowed to keep the beach preserved, undeveloped and in its natural state. The beach features high cliffs, with a small white sandy beach and a deep turquoise color water. To access the beach itself you need to walk down a rocky trail along with a steep hike, so it's advised to wear sneakers on your way.
1-Cala Formentor
Located at the north most point of Mallorca island, Cala Formentor is one of the most well-renowned and popular beach of the island. The natural environment and the setting of the beach comes second to no other. The beach features a lush vegetation setting with pine forest and looks over the bay of Pollensa and turquoise green seas. Though extremely narrow, the soft sandy beach is quite long with a stretch of 1 kilometres so better keep your children close to you. The beach can be a fantastic place if you have kids with you. If you are searching a property in Mallorca, in Fomentor you can find the most exclusive luxurious properties for sale of the island.
Formentor Beach was listed as one of the Top 3 best beaches in Europe and in the Top 25 in the world.
Related Articles:
https://www.tripadvisor.es/Attractions-g187462-Activities-c61-t52-Majorca_Balearic_Islands.html